Champion PTP is one of the best physical therapy and performance facilities in New England. Under the stewardship of President and co-founder Mike Reinold and Director of Physical Therapy and co-founder Lenny Macrina, Champion PTP has become the go-to for elite physical therapists in the area and has a thriving internship program that attracts professionals from all over the United States.
Aside from running Champion PTP, Mike Reinold is also the Senior Medical Advisor for the Chicago White Sox. He has been published in Baseball Health Network, Men's Health, Boston Globe, and Boston Herald, to name a few. He frequently presents at some of the most prestigious seminars in the country, and is truly one of the leading figures in the health and fitness industry.
Lenny Macrina, a board certified sports physical therapist by the APTA and a certified strength and conditioning specialist by the NSCA, participates in clinical research with the American Sports Medicine Institute in Birmingham, AL and has been published in the Journal of Orthopaedic & Sports Physical Therapy, the North American Journal of Sports Physical Therapy, the Sports Health journal, and many more.
Currently, Champion PTP is based out of Waltham, where they are bursting at the seams and looking for an intelligent way to grow their business. Considering that they already service many clients in our area (Needham, Newton, Dedham, Wellesley, Natick, etc.) it only makes sense for us to team up with them. With Champion PTP as our in-house physical therapy service, and Paul Hagerty as our in-house acupuncturist, we will have the best dynamic duo in Massachusetts for all of your rehab, prehab & soft tissue management needs.
Champion's Elite Performance Physical Therapy Team members to be providing services at PEX Needham.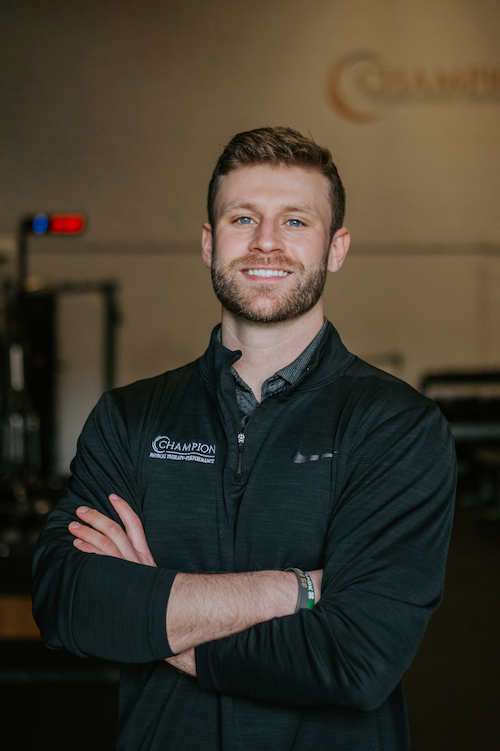 Brendan Gates
PEX Needham Center
Performance Physical Therapist PT, DPT, CSCS, C-PS, TPI
Dean Bonneau
PEX Needham Heights
1451 Highland Ave. Needham, MA 02492 | 258 Main St. Medfield, MA 02052 | 292 Reservoir St. Needham Heights 02494